As a Permit Expediter in San Francisco, we offer complete Permit Expediting service & assistance in the greater San Francisco area. We offer complete Plan Management, Permit Expediting with our professional Permit Expediters serving the entire S.F. Bay area including: San Francisco, South San Francisco,San Bruno,Burlingame,San Mateo,Foster City,Belmont,Redwood City,Atherton,Menlo Park, Woodside,Palo Alto,Woodside,Fairfax,Sausalito & Tiburon.
Are you looking for assistance with getting a Commercial Building Permit in the San Francisco or South San Francisco area? We are San Francisco's Premier Building Permit Expediters & Processing Company! We have professional Permit processing agents & expediters who will assist you with coordinating all the Documents you will need & take care of going to the Building Department to walk your Plans through the Permit process! Call (877) 581-0866


The San Francisco Design Group can even design & draft a set of plans for you to get a Building Permit, we take your Plans to the local Building Department & walk it through the entire Permit process. We can assist you through the process to get a Conditional Use or Building Permit!Whether it's a Residential, Hospitality, Business, Industrial, Commercial project, new or remodel, we take care of it!
DON'T WASTE YOUR TIME BY STANDING IN LINE AT THE BUILDING DEPARTMENT, GIVE US A CALL, WE CAN HELP YOU WITH ALL YOU PERMIT EXPEDITING NEEDS!
Call Toll Free (877) 581-0866 to speak to someone regarding submitting your construction plans for Permit issuance
We offer Use & Building Permit processing & assistance with our Professional Permit expediters & agents to the following Northern California Building Departments: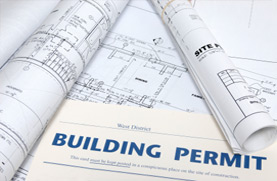 San Francisco Building Department
Richmond Building Department
Palo Alto Building Department
Millbrae Building Department
Pacifica Building Department
Burlingame Building Department
Alamed Building Department
Dublin Building Department
Fremont Building Department
Hayward Building Department
Menlo Park Building Department
Dublin,CA Building Department
Piedmont Building Department
San Leandro Building Department
Saratoga Building Department
We have the professional Permit Expediters who will take your Plans to your local Building Department, fill out the Permit Application & walk it through the entire Permit process. The following is a list of items that our Permit processing agents & staff will assist you with. FEES for our Permit assistance & aquisition is listed on the bottom of this page.


Warning: require_once(web-form-permit.html): failed to open stream: No such file or directory in /home/wwwsanf/public_html/sanfrancisco-buildingpermit-processing-oakland-permit-expediting.php on line 132

Fatal error: require_once(): Failed opening required 'web-form-permit.html' (include_path='.:/opt/php54/lib/php') in /home/wwwsanf/public_html/sanfrancisco-buildingpermit-processing-oakland-permit-expediting.php on line 132